Opportunity America and Lumina Foundation are partnering with Wilder Research to conduct a national research study of community college credit and noncredit occupational education and relationships with employers.
Some of the most exciting innovation in higher education is taking place at community colleges. This new thinking is more important than ever now as the nation wrestles with the Covid crisis and millions of Americans need fast, job-focused upskilling to get back to work. Yet relatively little is known about the breadth and depth of community college workforce programs.
By agreeing to provide data about your institution, you will:
Help compile evidence to make the case for increased funding for workforce education
Receive a customized report you can use to compare your institution to other colleges – a tool for planning and innovation
Be entered in a drawing to win a donation of up to $10,000 to fund scholarships for noncredit workforce students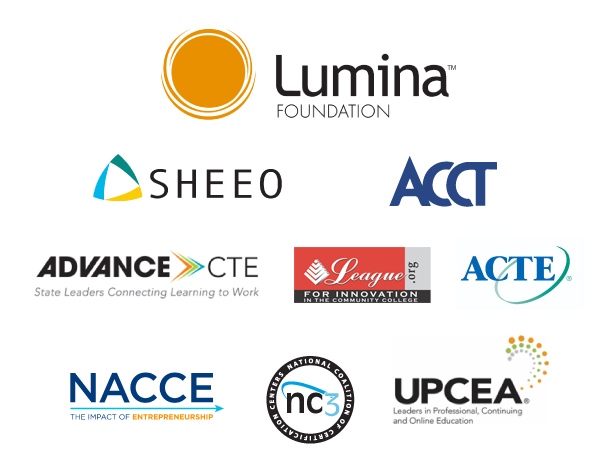 What is the study about?
The study aims to answer the following questions:
How extensive is the workforce education offered today on community college campuses?
How extensive are the workforce programs offered by community college noncredit divisions?
What share of colleges are adopting the innovations seen at pioneering two-year schools, including intensive employer partnerships, shorter job-focused programs and stackable credentials?
Who is conducting the study?
Opportunity America and Lumina Foundation, in partnership with Wilder Research.
What will it entail?
Your college will receive a web-based questionnaire that will require input from a variety of administrators – perhaps the college president, the dean of workforce education, the dean of academic affairs and the office of institutional research.
The focus of the study is data – information about your institution's occupational education programs, students, credentials and employer partnerships.
A preview of the questionnaire can be viewed here.
What do colleges get in return?
Colleges that take part will receive customized reports that allow them to compare their institutions to an aggregate of other participating colleges – a tool for planning and innovation.
They will also be entered in a drawing, and three colleges will receive donations of up to $10,000 from Opportunity America to fund scholarships for noncredit workforce students.
What other colleges are participating?
All of the nation's 1,100 community and technical colleges will be invited to participate in the study.
When will the results be available?
Covid recovery permitting, the study will be in the field from October 2020 through the end of the year. The results will be published in spring 2021.
Will my college be identified in the report?
Responses will be confidential. Findings will be made available to the public, including participating institutions, community college systems, researchers and policymakers at the state and federal levels. But no institution will be identified in any public report.